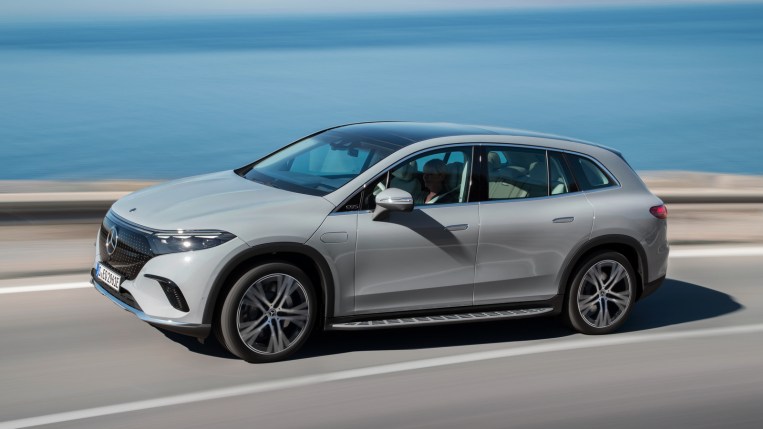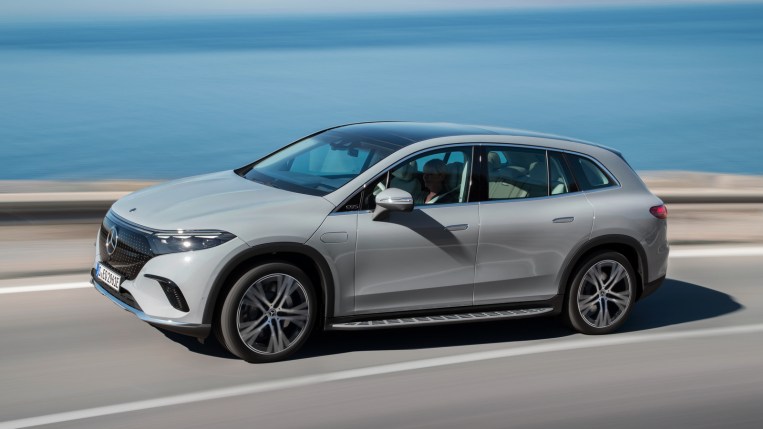 Mercedes-Benz has launched a plan to let EV buyers subscribe to additional performance for their cars for a fee. But only in the U.S.
Top Gear Netherlands reports, "In Europe, Mercedes will not yet offer subscriptions to add extra horsepower" to electric cars. A spokesperson tells Top Gear "it depends on legal matters."
$1,200 Per Year Here
The subscription plan costs American Mercedes owners $1,200 per year. It shaves a second or less off the 0-60 mph time of our all-electric Mercedes models: the EQE sedan, EQE SUV, EQS sedan, and EQS SUV.
It's likely a sign of things to come. Many automakers have publicly toyed with locking vehicle features and performance levels behind subscriptions.
May Be a Sign of the Future
Now that many cars have wireless internet connections, automakers could send a signal to activate or deactivate a feature – like a heated steering wheel or a software program adding additional horsepower – to a car in an owner's driveway.
That could create a world where buyers would add or subtract features with a mobile app, paying subscription fees for them as they go.
Fees could affect comfort features — BMW has experimented with monthly payments for heated seats in some markets. They could affect performance, as in Mercedes' new acceleration increase. They could even affect advanced technologies – Volkswagen recently unveiled a concept with self-driving software that charges ticket prices based on where you want it to take you.
Better for Automakers
The idea could simplify building cars.
Today, if an automaker wishes to sell a car with a choice of two audio systems, it must design and build two different audio systems. Often, automakers must stop a factory production line to switch over to new equipment to build different trim levels and guess how many of each option package the market will want.
In the subscription-based future, it might be cheaper to build every car with the same set of features. Automakers could then let buyers switch them on and off over time, with fluctuating monthly car payments based on which features owners activated each month.
That same automaker could design and build one 16-speaker audio system into every car. They could then let buyers pay to active eight, 12, or 16 speakers.
It would also give them a revenue stream from even used cars. You might buy a used car but still need to pay the company that built it for the automatic high beams or additional horsepower you wanted.
Some Consumer, Lawmaker Pushback
Shoppers hate the idea. Our research shows that only 25% of drivers are open to it.
And, apparently, few European legislators.
Europe has a reputation for stronger consumer protections than America. But the idea that governments should step in to ban subscription plans is starting to take root stateside.
A pair of New Jersey legislators have proposed a similar ban on subscription services in that state.
Top Gear Netherlands reports, "In Europe, Mercedes will not yet offer subscriptions to add extra horsepower" to electric cars. A spokesperson tells Top Gear "it depends on legal matters."
The subscription plan costs American Mercedes owners $1,200 per year. It shaves a second or less off the 0-60 mph time of our all-electric Mercedes models: the EQE sedan, EQE SUV, EQS sedan, and EQS SUV.
It's likely a sign of things to come. Many automakers have publicly toyed with locking vehicle features and performance levels behind subscriptions.
Now that many cars have wireless internet connections, automakers could send a signal to activate or deactivate a feature – like a heated steering wheel or a software program adding additional horsepower – to a car in an owner's driveway.
That could create a world where buyers would add or subtract features with a mobile app, paying subscription fees for them as they go.
Fees could affect comfort features — BMW has experimented with monthly payments for heated seats in some markets. They could affect performance, as in Mercedes' new acceleration increase. They could even affect advanced technologies – Volkswagen recently unveiled a concept with self-driving software that charges ticket prices based on where you want it to take you.
The idea could simplify building cars.
Today, if an automaker wishes to sell a car with a choice of two audio systems, it must design and build two different audio systems. Often, automakers must stop a factory production line to switch over to new equipment to build different trim levels and guess how many of each option package the market will want.
In the subscription-based future, it might be cheaper to build every car with the same set of features. Automakers could then let buyers switch them on and off over time, with fluctuating monthly car payments based on which features owners activated each month.
That same automaker could design and build one 16-speaker audio system into every car. They could then let buyers pay to active eight, 12, or 16 speakers.
It would also give them a revenue stream from even used cars. You might buy a used car but still need to pay the company that built it for the automatic high beams or additional horsepower you wanted.
Shoppers hate the idea. Our research shows that only 25% of drivers are open to it.
And, apparently, few European legislators.
Europe has a reputation for stronger consumer protections than America. But the idea that governments should step in to ban subscription plans is starting to take root stateside.
A pair of New Jersey legislators have proposed a similar ban on subscription services in that state.
See how the latest models measure up based on expert ratings from our Kelley Blue Book editors. See all Best EV Rankings.
2023 Chevrolet Bolt EV
2023 Ford Mustang MACH-E
2023 Ford F150 Lightning
2023 Mercedes-Benz Mercedes-EQ EQS
2023 Volvo XC40 Recharge
The best cars and best deals delivered to your inbox
Price cars, trucks and SUVs on KBB.com
Report: Tesla Offers $3,750 Discount on Model 3, Y
Tesla's Approval Rating Goes Negative, Survey Finds
Study: All Those EVs Save America 2 Days of Gas per Year
2023 Kia Sportage vs. 2023 Toyota RAV4 Comparison
2023 Kia Telluride vs. 2023 Jeep Grand Cherokee L Comparison
Report: Tesla Offers $3,750 Discount on Model 3, Y
Could Gas Drop Below $3 For the Holidays?
Toyota Teases Stretched Grand Highlander SUV
Hackers Show How To Unlock, Start Cars Remotely
2023 Mazda CX-5 vs. 2023 Mitsubishi Outlander Comparison
Honda Plans New Self-Driving Software by 2030